My primary long-term restoration project is a one-off 1952 SIATA-Ford, 208SL1006613. 208SL1006613 was originally commissioned by Jimmy Mulgrew of Euclid Ford, Euclid, Ohio. At this time Jimmy was part-owner of the Euclid Ford dealership and had an interest in sports cars. Dick Irish, an amateur racer with a strong interest in foreign cars, was working for Jimmy and together they hatched a plan to build a special based on a Ford chassis. Dick is best known for his class win at Sebring, 1952 in a SIATA Daina 1400cc Gran Sport and raced a number of interesting cars in period. There is an excellent profile of Dick in Carl Goodwin's They Started in MG's. ISBN 978-0786460526
After being denied a Police Special chassis by Edsel Ford himself, Jimmy Mulgrew sent Dick Irish from Ohio to Tony Pompeo's New York dealership with a 1951 two-door-sedan that had been sitting on the Euclid Ford sales lot. Tony Pompeo was the East Coast importer of SIATA, Bandini, Stanguellini (before Sandy McArthur or Alfred Momo sold the Formula Juniors), Abarth, Cisitalia, Nardi, Moretti, Ermini, Giaur and, on a few occasions, Alfa Romeo and Maserati refVeloceToday.com Dick dropped the Ford sedan off at the NY docks for Tony to send to Italy where SIATA was to build a custom Ford-based sportscar.
The Ford sedan was delivered to New York in mid-1952 and approximately six months later it returned as SIATA 208SL1006613. By this time Dick was enroute to the Armed Services so a mechanic from the Euclid dealership was dispatched to collect the car from Tony Pompeo.

Everybody was expecting a hardtop like the Italmeccanica IT-160 (right) which Dick and Jimmy had seen at Watkins Glenn and which was their inspiration for 208SL1006613.
So it was a surprise to receive a convertible instead. To dress it up further Jimmy Mulgrew, reportedly, wanted to add a continental kit but was ultimately dissuaded. Dick relates that the mechanic said the car "went like heck" but never drove the car himself.
Whether Tony sent the entire car or just parts will never be known. John deBoer is of the opinion that the Ford sedan was likely broken up in New York and only the drivetrain, suspension and instruments shipped as this would have been more economical. This hypothesis is supported by the fact that in the resulting car the frame itself is completely SIATA-derived. Had they sent the entire car it seems likely that the frame would have been re-used.
52 Siata Ford. Photos by Dick Irish, Euclid Ford Dealership
The first set of photos (above) are courtesy of Dick who took them at the Euclid Ford Dealership. The next photo is a scan of an image from Sports Cars Facts & Figures by Austin Conley as published in 1954. The history of the car then goes cold. John deBoer's Registry of Italian Oddities indicates that the car was sold by Alfred Momo of New York in 1955. There were at least two SIATA-bodied Fords so this may or may not be this car. Jimmy Mulgrew apparently sold his interest in the dealership and moved – West? sometime in the mid-1950s while the car itself went East. In October, 2011, Michael Caltrider contacted me having discovered this website. Michael kindly provided me with additional information regarding the car's history, correcting the story that Roland Wommack had bought the car out of field in upstate New York along with the Vignale-bodied Aston Martin.
Known History as of November 2011
Late 1952 208SL1006613 arrives at Euclid Ford, Euclid, Ohio.
1954 Photo published in Austin Conley's Sports Cars Facts & Figures.
Mid-1950's car passes through Alfred Momo's dealership.
Mid-1960's(?) cars is bought by Frank Russo Sr. from unidentified Seller who lived on Quaker Bottom Road in Sparks, MD.
Approx. 1966/7, Michael Caltrider sees car sitting in Frank Russo Sr.'s field in Jacksonville, MD.
Late 1960's car sold by Frank Russo Sr. to an associate, who may have been one of his employees, in Cockeysville, MD.
October 1974 Bought by Michael Caltrider out of Baltimore Sunday Sun for $250. This brought the car full circle for Mike as he had originally seen the car in Austin Conley's 1954 book, which was given to him by a school-mate, Steven Blackburn. Then while in Community College in Northern Baltimore County in 1966/67 he had seen the car sitting in Frank Russo's father's field.
August 1975 Sold by Michael Caltrider to Michael Supley for $250. At this time all trim except bumpers was with car.
Date unknown – assumed sold from Michael Supley to Roland Wommack as they were both in Virginia.
Roland Wommack subsequently loses car in storage auction/forced sale as a result of a divorce.
1982 Bill Lightfoot acquired the car via Bill Montcreif.
1985 Phil Goutell bought the car from Lightfoot – now know as the Lightfoot Siata
1987 Sold to Joseph Alphabet of Alpha Motorsports
1988 – Summer. Bought by Oliver Kuttner. During this time the frame, which had rusted through, was fixed and the engine reportedly rebuilt.
2005 Jerry Bensinger and Dan Rapley acquired the car from Kuttner.
The next picture (right) shows the car as I bought it from Bensinger. It was in very rough condition with extensive rust prevalent throughout. In mid-2005 I sent the car to my friend Udo Bernhadt in Herborn Germany to restore the bodywork. I met Udo when I sold him an Abarth double bubble in the mid-1990's. His family's firm is Bernhardt Karosseriebau and he can be reached via email at u_bernhardt@gmx.de
Following is a picture of the Stabilimenti Farina body stamp (below, left). According to John deBoer's records this is the highest known Stabilimenti Farina body number. Stabilimenti Farina reportedly closed their doors in late 1952 so this is consistent. Interestingly, Dick Irish's notes indicate that the car was actually finished by Bertone. The accuracy of this is unknown. Additionally Udo has found that many of the panels show evidence of having additional material added around their perimeter. It is likely that the panels were intended for another car and diverted or recycled for the purpose of building this car.
The next photo shows the body entire stripped off and only the chassis remaining (below, center).
Body Number Stamp (left), Rolling Chassis (middle), Restoration Progressing (right)
Body work coming along – top up, Mr. Bernhardt welding, initial paint work
Painted in preparation for shipping
The body was put back together (and the car was shipped back to the States in late 2008.
Dash and Interior coming along; Dave Torrey of Absolute Engineering tweaks the carburetors
2010-2011 Restoration Proceeds
July 2011 Test Drive
Minimal progress ensued until late 2010 when a lighter work load enabled me to move the project forward. Effective Summer of 2011, the car was totally back together and running and driving. Most of 2012 was spent on a body-up restoration of a Fiat 600 but detail work continued. A concerted final push in late 2013 and early 2014 resulted in a completed, fully restored car. The car was subsequently sold to Symbolic International of La Jolla, California in early 2017. The buyer painted scallops on the side in order to make it appear smaller and it was re-sold at the 2017 RM Auctions Monterey Sale
Recently it was exhibited at TechnoClassica Essen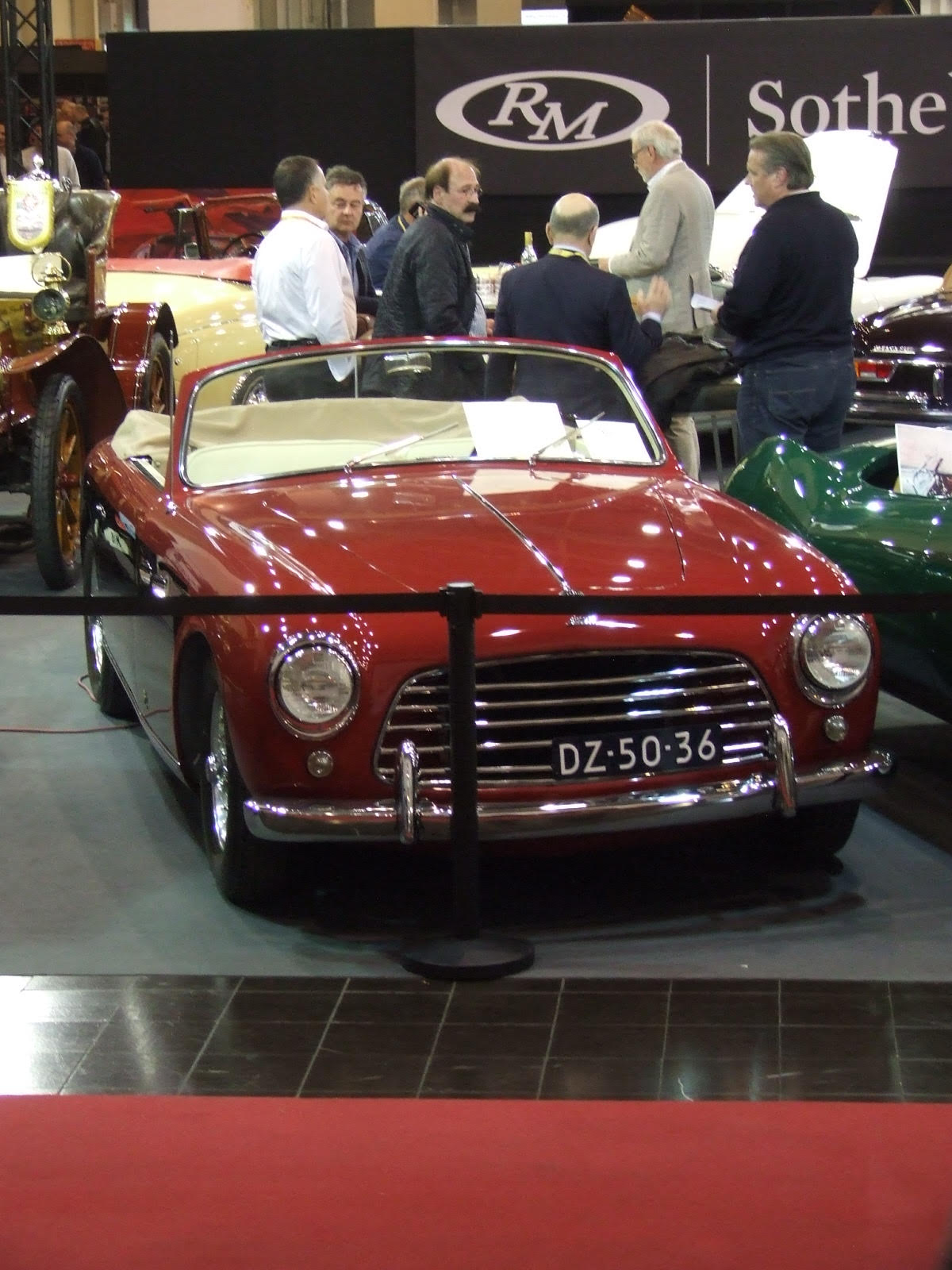 Should you have further information about the history of this car or know what happened to Jimmy Mulgrew please don't hesitate to email me as I remain very interested in learning its early history.